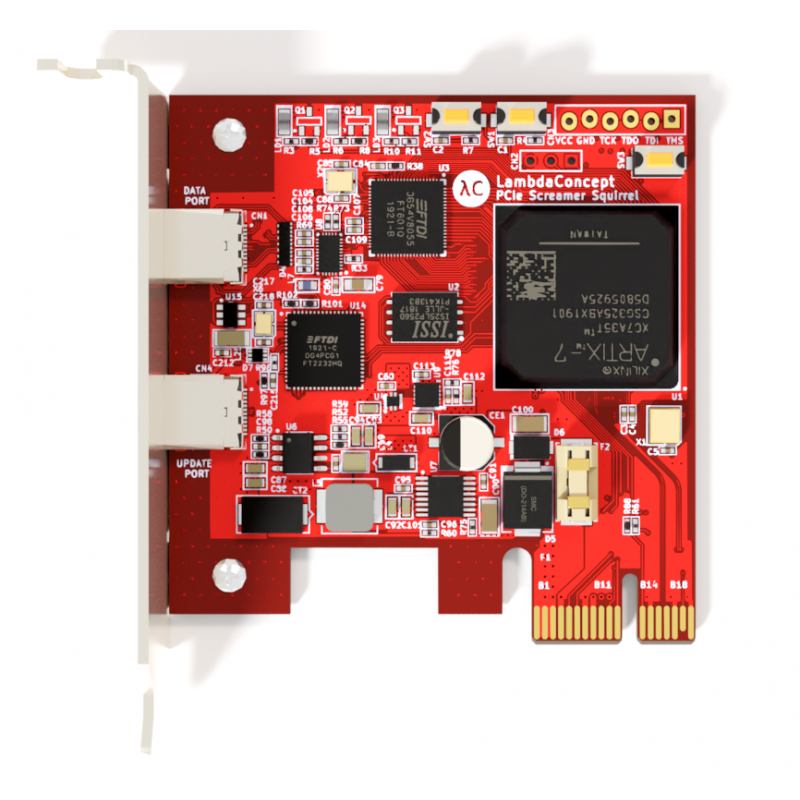  
Screamer PCIe Squirrel
Screamer PCIe Squirrel with a Low-Profile form factor and PCIe x1 connectivity designed for DMA (Direct Memory Access) attacks over PCI Express.
The board is officially supported by PCILeech and comes pre-flashed with PCILeech FPGA gateware.
Our JtagSerial cable is no longer needed for gateware updates, just connect through the USB update port !
The web shop price is tax excluded, expect to pay the value-added tax (usually 20%) or any other extra fees at the reception of the package in your destination country, including when shipping to France or Europe (All packages are shipped from Hong Kong).
Documentation and examples
http://docs.lambdaconcept.com/screamer/index.html
Why a new version ?
Due to the worldwide ship shortage we had to replace some of the components and make a new design.
What are the main differences with the previous Screamer version ?
PCIe x1: PCILeech FPGA uses only PCIe x1, so there is no performance impact compared to our previous PCIe x4 version, and the board size is reduced.
Same FPGA but different package/pinout: Make sure to use the PCILeech bitstream made for the Squirrel.
Integrated JTAG via a secondary USB-C connector: avoids the need for an external JTAG cable when upgrading PCILeech.
Features:
Data port: USB-C (FT601 USB 3.1 Gen 1)
Update port: USB-C (FT2232 USB 2 Integrated JTAG + Serial)
PCIe x1
PCIe Low-Profile
Box content:
Screamer PCIe Squirrel
USB-C to USB-C 3.1 Gen 1 Cable
USB-C to USB 3.1 Type-A Adapter
Low-Profile Bracket
Full-Length Bracket
Screws
PCIe is the main high speed way of communicating between a processor and its peripherals. It is used in PC (also encapsulated in Thunderbolt) and now even in mobile phones. Doing security research on a PCIe system is complex because it requires expensive tools that are not that common when packet generation is needed. Screamer provides a such tool at a reasonable price.
PCILeech
https://github.com/ufrisk/pcileech
https://github.com/ufrisk/pcileech-fpga
Alternative Gateware