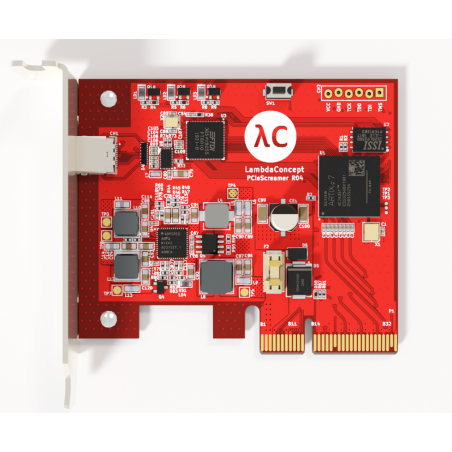  
Screamer PCIe USB-C (R04)
Screamer PCIe USB-C (R04) with a Low-Profile form factor and PCIe x4 connectivity. Compatible with Screamer M.2 gateware/software.
!Limited edition! Only 100 boards available (November 18th)! Due to the worldwide chip shortage and lack of FT601 chips (USB3 connectivity), we have been able to produce only a small batch of Screamer.
What are the differences with Screamer M.2 USB-C (R04) ?
M.2 connector is replaced with a PCIe connector. No need for M.2 -> PCIe adapter boards.

Same FPGA schematics/pinout.

Existing software and gateware made for the Screamer M.2 are fully compatible with this new PCIe version.

Horizontal USB-C connector, reachable through the bracket.
Features: 
USB-C (USB 3.1 Gen 1)

PCIe x4

PCIe Low-Profile (68.90mm height x 79.20mm length)
Box content:
Screamer PCIe USB-C (R04)

USB-C to USB-C 3.1 Gen 1 Cable

USB-C to USB 3.1 Type-A Adapter

Low-Profile Bracket

Full-Length Bracket
Screamer is officially supported by PCILeech. (Use the same gateware as M.2)
PCIe is the main high speed way of communicating between a processor and its peripherals. It is used in PC (also encapsulated in Thunderbolt) and now even in mobile phones. Doing security research on a PCIe system is complex because it requires expensive tools (>$50k) and such tools are not that common when packet generation is needed. Screamer provides a such tool at a more reasonable price.
The board comes pre-flashed with PCILeech gateware. We recommend you to get the JtagSerial pack in order to reprogram it or update it to newer versions.