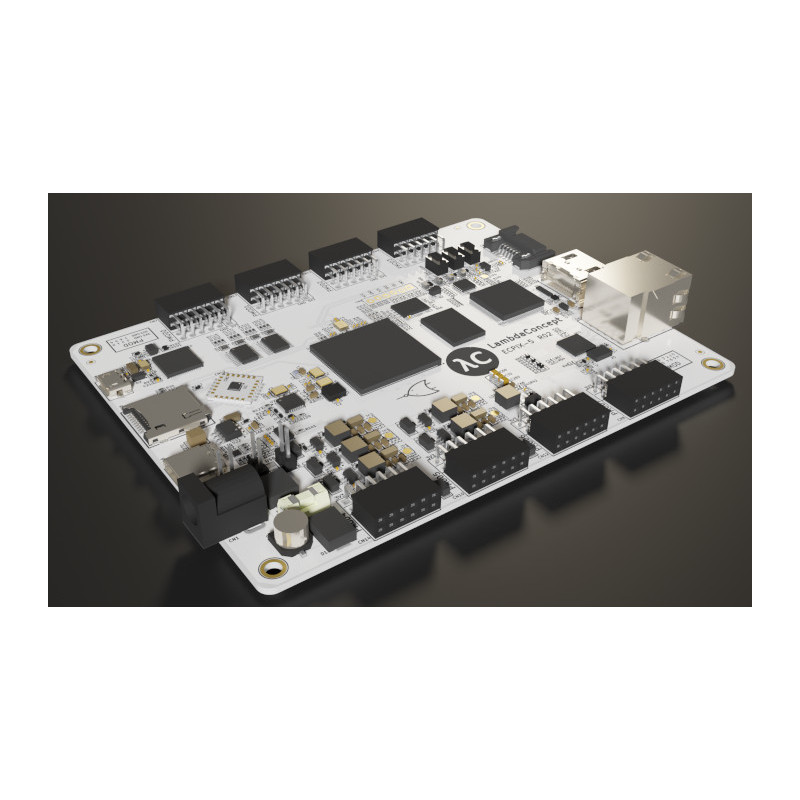  
ECPIX-5
ECPIX-5, the modern ECP5 development board
ECPIX-5 is an FPGA development board designed around Lattice's ECP5 FPGA. It features an extensive set of peripherals and high speed connectors to ease your prototyping process. The FPGA on ECPIX-5 is fully supported by an open source toolchain compatible with major operating systems. No hardware-enforced licensing systems, no bloated IDE to download, and faster compile times!
Features:
ECPIX-5 comes in two FPGA variants: LFE5UM5G-45F (45K LUTs) or the larger LFE5UM5G-85F (85K LUTs).
* Lattice ECP5-5G FPGA with 5Gbit/s SERDES.
* 4Gb (512MB) of DDR3L RAM
* 256Mb (32MB) Quad-SPI Flash
* Built-in JTAG and serial USB interface
* USB-C port for USB 2 and USB 3 operation
* HDMI 1.4b transmitter
* Gigabit Ethernet
* Full size SATA port
* microSD (UHS-II capable)
* Four RGB LEDs
* Eight industry standard PMOD connectors
Applications:
* nMigen/Migen/LiteX programming
* USB 2/USB 3 prototyping
* Game console emulation
* Software Defined Radio
* Customizable RISC-V SoC
* And more...
Package content:
* ECPIX-5 board
* Protective cardboard box
(Cables not included)